Welcome to ETS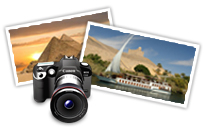 As ETS was basically found in 2004, it gained an impressive success in short period of time and established remarkable place in Egyptian Travel Industry. It is based on the proficiency, efficient experience of its team. It is one of the pioneers for its unique provided services and qualities.
The impressive progress of our business for the past three years is a reaction of our offices' powerful network through the major destination in Egypt, and another growth driver has been ETS's introduction of its own range of exclusive hotels, fleet of transport and its own deluxe 5 star cruise ship.
Our success is continuous as it based on our partners' trust, confidence and supported by our experience & concentration on service & quality. Creation and progress, honesty, & morals is what we aim.
We honor ourselves with employing carefully selected and efficient high calibers; with a wide, previous experience and knowledge of catering technique servicing different needs, and desires of the individuals and groups.
ETS has a strong partnership with pick Albatros hotels chain which total number of 11 hotels & Resorts covering the major touristic cities in Egypt & Morocco

Our ETS staff is supported by a team of dedicated executives who have gained an international respect for their trusted proficiency through years of activity.